---
Let's create good architecture together!
COMMOD cooperates with architects and planning partners.
Your team plans single-family houses made of wood and would like to realize them in the defined quality?
You have an understanding of ecological building and attach great importance to quality? A fixed time and cost frame is important to you and your customers? – Us, too.
The advantages speak for themselves:
Quality – cost security – adherence to schedules – the division of labor
No matter how good a design is, the result is only as good as the construction company is able to implement it. In cooperation with COMMOD, the quality of the implementation of your design is as reliable as our timing.
Advantages for architects & planners:
No time-consuming preparation of tenders
Detailed realization
Construction supervision is taken over by us
No coordination effort thanks to reduction of interfaces
Use of the desired materials – freedom to experiment with innovative materials (according to qualitative and ecological standards as per COMMOD standard)
No processing of complaints
High reputation of the COMMOD brand – prestigious projects and public relations with your brand name including publications and award submissions
Design has a high priority (COMMOD design frame for quality assurance)
Innovative spirit and access to the COMMOD CULTURE© knowledge pool.
Advantages for customers:
Deadline and cost certainty
Realization in high quality & desired design
Relaxed design and construction process
No coordination of construction sites
Few contact persons due to optimal interface management.
The process – What to consider?
Almost anything can be implemented in a COMMOD wooden modular house. We will be happy to send you the design instructions or technical requirements for a COMMOD HOUSE by e-mail upon request.
Ideally, at the beginning of the preliminary planning we will have a short discussion about the design idea, budget and plot of land.
With a few planning parameters, the design and submission can be created and also bears the individual signature of our architecture and planning partners inside. Of course, we also make the cooperation visible to the outside via a strong co-branding: "COMMOD x YOU".
As soon as the submission is approved, we'll take over. From this point on, it takes between 6 and 12 months until the house is manufactured in our factory and erected (in one day). Customers can move into their house about two weeks after installation.
We are looking forward to hearing from you via e-mail: Business Collaboration Contact.
Get in touch!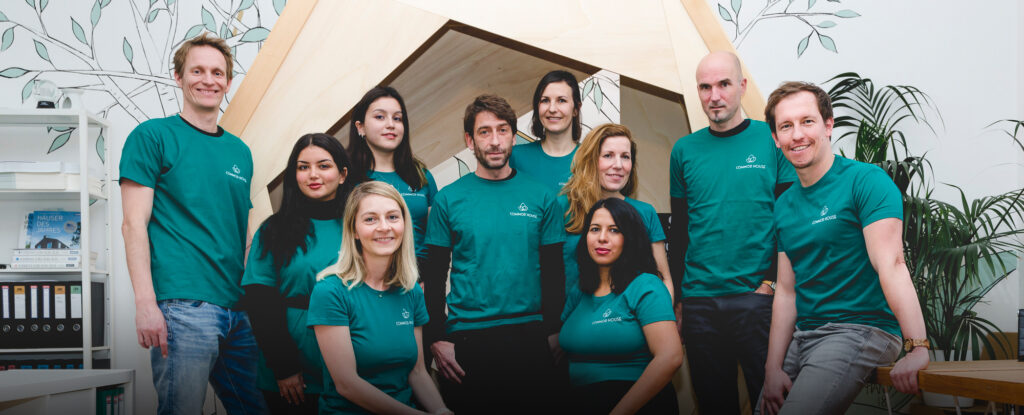 DI Volker Ast: construction planning (Architecture TU Graz)
Oumaima Laassibi MSc: business development and strategic international marketing (PR, Marketing and Businessdevelopment, Paris)
Gamze Olcay, B.Arch: design and permission planning, competitions, PR (Architecture University of the Istanbul Yldiz Technical University, FH JOANNEUM),
Mag. Lisa Gatterbauer: pr and marketing manager (International Management and Business Administration, KF Uni Graz),
DI Ingmar Zwirn: construction planning and projectmanagement (Architecture TU Graz),
DI Michaela Maresch Bsc: CEO, shareholder and founder (Architecture TU Graz, Construction planning and management, FH JOANNEUM),
DI Rita Fruhmann: Co-Head of marketing, permission planning and design (Architecture TU Graz) – currently on maternal leave,
Mag. (FH) Nadja Wieland: customer relationship manager and Back Office (Health and Tourism Management FH JOANNEUM),
DI Gerald Brencic: CEO, shareholder and founder (Architecture TU Graz),
DI Uwe Lackner, HoEP: Head of permission planning and design (Architecture- and Projectmanangement FH JOANNEUM),
Jannis Fielers, B.Eng: construction planning
Photo credit: Tamara Frisch Photography
Background: wall painting "COMMOD" by dirtyhand arts (Stefanie Hödlmoser)