---
Open doors for curious guests.
After more than two years, the time had finally come again: around 70 interested people, customers and some of them already COMMOD HOUSE owners, made their way to the COMMOD HOUSE factory on Friday in beautiful weather to take a look behind the scenes of the production of a wooden modular house. Together with our production partner Mitos, we were delighted to welcome so many interested guests to the OPEN DOORS.
"It is special to see the construction of a modular house up close and get to know the faces behind it," was the unanimous opinion of the guests at the factory.
The Dr. Hoffmann family was also present and was surprised to receive the "GREEN PRODUCT AWARD" for their COMMOD bathhouse. "We are very happy that our house was awarded, and we feel very comfortable in our house all year round – which was actually mainly intended as a summer house by the bathing lake." The two COMMOD HOUSE owners were beaming all over their faces and were also very pleased to receive a tree sponsorship and other gifts for what is already the second award for their COMMOD house (MUSE DESIGN AWARD 2020).

In three groups, the participants were guided through the houses in different construction phases as well as the carpentry workshop by our execution planners Gerald Brencic, Volker Ast and Ingmar Zwirn. Particularly frequently asked questions were:
What heating systems do you use in the COMMOD houses? We use air-to-air heat pumps as standard, which can both heat and cool. This requires one individually controlled terminal unit per enclosed room, which is installed approx. 10 cm below the ceiling, as well as a transfer unit outside the house at a minimum height of 50 cm above the ground and with dimensions of 40/20/60 cm. Alternatively, an infrared floor heating system with carbon fibres is also possible. This is always coupled with a photovoltaic system. For an additional charge, the installation of a Swedish stove or a tiled stove is also possible.
How far should wooden houses be from the ground? In timber construction, the base area has special requirements in terms of moisture protection. The space between the ground and the lower edge of the house should be at least 30 cm high. This area must not be subsequently filled in, directly built on or closed off in an air-impermeable manner. A permanent air exchange under the entire house must be guaranteed.
What different roof shapes are possible and what is the maximum room height? COMMOD houses can basically be built with a monopitch, flat or gable roof. The maximum room height is 3.10 m for a gable roof and 2.90 m for a flat roof.
What do I need to know about wood preservation? Read more about this in our article on the choice of façade.
At the same time, the Flash Talks with Michaela Maresch and Uwe Lackner took place in the Mitos office. Our learning: 10 minutes really do fly by! Fortunately, we built in a little buffer. We are looking forward to intensifying the conversations with future COMMOD HOUSE residents.
Meanwhile, in the Kids Corner, colourful COMMOD dream houses were painted and the little guests tasted their way through the sweet homemade treats.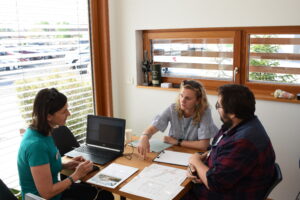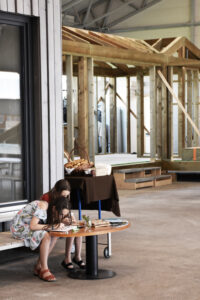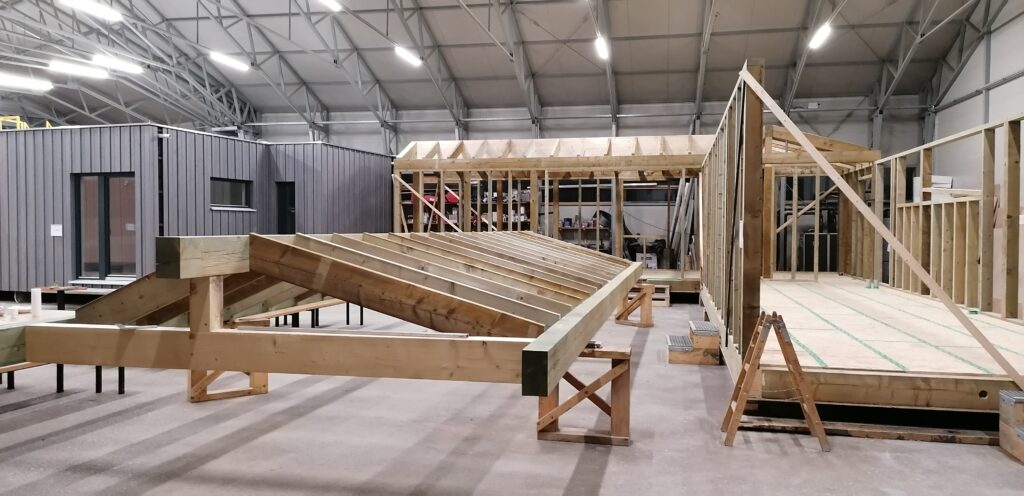 Many thanks to all our guests! We hope you gained a good insight into our houses and we were able to clarify all your open points. If you have any further questions, please do not hesitate to contact us at info@commod-house.com. Feel free to click through our photo gallery.
PS: The next OPEN DOORS are planned for autumn 2022 (#FingersCrossed).