| | |
| --- | --- |
| Kategorien | Gewerblich |
| Form | L, L-Form |
| Design | natural |
| Dachform | satteldach |
Our dream is to develop the most sustainable boat ever.
Built from the renewable resource wood and powered by energy it produces itself.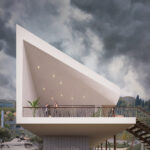 We are a team of architects, planners and creative minds. We love wood, we love the waters of this world and we are convinced that there is still a lot of potential to build boats that do not pollute our oceans but even clean them during their use and do not harm nature at the end of their life cycle.
You share our vision and are interested in becoming part of this promising project? Be it as a research or production partner, energy expert or investor? Great! Get in touch at any time. We look forward to hearing from you! NAUTICAL CLUB and COMMOD BOAT
COMMOD NAUTICAL CLUB
(COMMOD Sustainable Marine Competition Monaco sustainable smart marina competition 2023)

Nestled in the iconic French Riviera, the Nautical Club is a testament to architectural innovation that respects its historical and maritime roots. By preserving the existing structure and introducing modular overlays, the design captures the essence of sailboats, reflecting the region's deep-seated nautical heritage. A standout feature is the atrium, carved by rays inspired by Eze, infusing the space with natural light and a touch of verdant green, symbolizing the harmonious blend of nature and architecture. Sustainability is at the forefront, with the integration of solar panels, rainwater harvesting, and the ingenious use of repurposed materials like decommissioned sails and ropes. Beyond its architectural marvels, the club is a beacon of inclusivity. While it caters to the elite, it also warmly welcomes the local community, offering communal spaces that bridge societal divides. This project is not just a building; it's a narrative of history, luxury, sustainability, and community, all converging to redefine waterfront luxury in the heart of the French Riviera.
For more informations contact us here: NAUTICAL CLUB and COMMOD BOAT