---
COMMOD HOUSE Matrix gewinnt den BIG SEE Architecture AWARD 2022! 🏆

Big joy im COMMOD Büro! 
Wir freuen uns riesig, dass wieder eines unserer Häuser mit dem BIG SEE Award ausgezeichnet wurde, diesmal in der Kategorie: "Residential architecture".
Wir gratulieren unseren Kunden und Besitzern des COMMOD HOUSE "MATRIX" sehr herzlich und bedanken uns für das entgegengebrachte Vertrauen und die sehr wertschätzende Zusammenarbeit.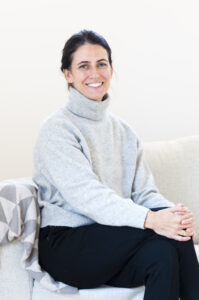 Glückliche COMMOD HOUSE "MATRIX" Besitzerin und 2022 BIG SEE Architecture Award Gewinnerin Annegret Frank-Karwautz.
2021 konnte bereits unser "Zauberhaus" den BIG SEE Wood Design Award in der Kategorie "Wooden houses" gewinnen, 2019 das "Sonnenhaus" in der Kategorie "Wooden houses" sowie unsere Designmöbel "Table & Bench" in der Kategorie "Interior and Furniture" und die "COMMOD Comb" für "small wooden products".

"BIG SEE is an exciting emerging platform under the BIG umbrella. SEE is Southeast Europe. It brings together 21 countries, from the Adriatic-Ionian, the Balkan-Mediterranean and from the Danube region – altogether 350 million people in what we feel, claim and exclaim is the most compelling, most creative region in the world."
Über 'COMMOD HOUSE Matrix'
COMMOD "Matrix" ist ein Wochenend- und Sommerhaus für eine 5-köpfige Familie mit 164 m² BGF (124 NGF).
Der offene Wohnbereich mit der schicken Küche (Design by COMMOD) in weiß mit schwarzen Armaturen und der beleuchteten Sichtbalkenddecke aus Lärche Natur geölt mit dazwischenliegenden Feldern in weiß geölten Fichtendreischichtplatten, öffnet sich hin zum Garten mit Pool.
Das helle Treppenhaus mit Holzlamellen als kindersichere aber auch architektonisch raffiniert ausgeführte Absturzsicherung, führt ins private Familienobergeschoß. Mehr Informationen, Fotos, Pläne und einen Richtkostenpreis können Sie hier anfordern: COMMOD HOUSE Matrix